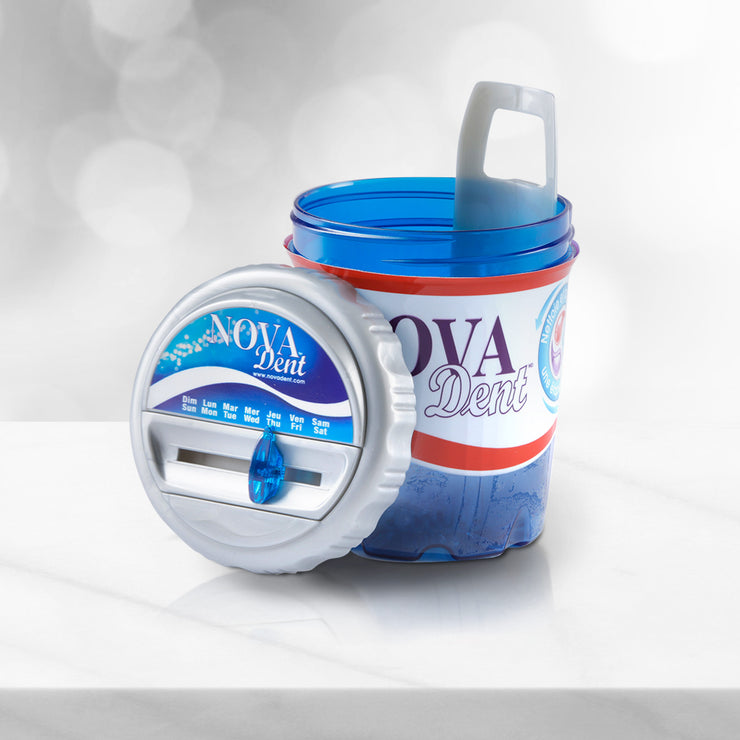 Soaking bath with day-reminder
Shipping to Canada and the United States
In stock, ready to ship

Inventory on the way
The Novadent® cleaning container simplifies the maintenance of your dental prosthesis or appliance.
It features a twist-on lid and a day-reminder slider. A microfilter basket hooks onto the inside rim to handle the denture or dental appliance without getting your fingers wet. The wall of the container allows a discreet view inside without revealing too much of the contents.
The Novadent® cleaning container is suitable for all types of dentures and dental appliances and can be used when traveling or on the go (no liquid inside).
HOW TO USE
Set the day-reminder slider on the current day.
Add ¾ cup (185 ml) of lukewarm water to the bath.
Add a sachet of Novadent® 7-day formula.
Replace the cleaning solution after 7 days.
IMPORTANT:
Rinse prosthesis or dental appliance thoroughly
BEFORE AND AFTER
soaking.
WARNING:
Empty the bath before placing it in a bag or suitcase. Do not carry the cleaning container filled with cleaning solution in a bag (handbag, sports bag) or a suitcase. The cleaning solution could spill and discolor the affected articles. Do not store in an enclosed area.