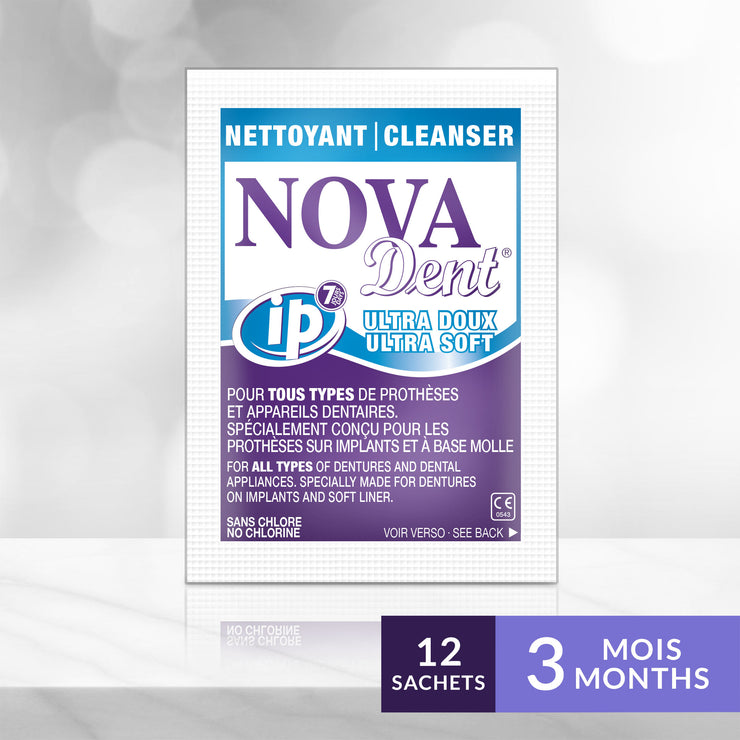 Novadent iP Ultra Soft 3-month - Cleanser for denture on implants and soft liner
Shipping to Canada and the United States
In stock, ready to ship

Inventory on the way
Novadent® iP Ultra Soft cleanser is specially formulated for implant-supported dentures and soft liners. One sachet provides 100% effective cleaning for an entire week. That means less work for you and better results than any other denture and appliance cleaner.
The antibacterial formula kills 99.9% of odor and tartar-causing microbes. The solution reaches all hard-to-clean areas and replaces brushing, making dentures look like new at the first use.
TYPES OF PROSTHESES AND DENTAL APPLIANCES
The solution deeply cleans dentures on implants and soft liners.
Each sachet makes a specially formulated cleaning solution effective for 7 consecutive days.
CONTENTS OF PACKAGING
12 x 5 g sachets for 3 months of use

INITIAL USE
For first use, it is recommended to soak the prosthesis or appliance in the cleansing solution for 8 hours or overnight to obtain a smooth and clean surface. Then, discard the solution and prepare a new solution that will last 7 days. Repeat this step if treatment is interrupted for more than 2 weeks.
HOW TO USE
EMPTY THE CONTENT OF A SACHET into 3/4 of a cup (185 ml) of lukewarm water to help dissolve the crystals faster. The solution is specially formulated to be used for 7 consecutive days.
RINSE the prosthesis or dental appliance with lukewarm water before soaking to remove any food particles.
SOAK the prosthesis or dental appliance for a 15 minutes minimum or overnight.
RINSE THOROUGHLY with lukewarm water before placing the denture or dental appliance back into your mouth.
WARNING
External use only. Do not use as a teeth whitening product. Keep out of reach of children. Eye contact: flush eyes with plenty of water for 15 minutes. Ingestion: Do not induce vomiting, call the poison center. Avoid contact with objects containing gold (jewelry, chains, rings, etc.), colored fabrics (clothes, towels, etc.) and colored surfaces (vanities, floors). Do not store in an enclosed area. Always keep the outside of the soaking bath completely dry. Do not use for dental orthodontic appliances with soldering and any appliances containing gold.
*SAFE FOR METAL PARTIAL DENTURES SUCH AS VITALLIUM, TITANIUM AND COBALT-CHROME.